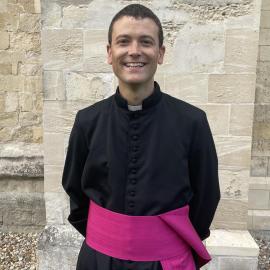 As Canon Precentor, Jack will be responsible for re-imagining this historic role in a manner that seeks to resource, in substantive new ways, the wider Diocese in its ministry and mission from the Cathedral.
Working with others from across the Diocese, particularly with the Department for Apostolic Life, Jack will play a crucial ongoing role in enabling the Cathedral to help the whole people of God to grow in the knowledge and love of God, in evangelistic witness, in transforming the unjust structures of society and in the collective striving to safeguard the integrity of creation. 
Before ordination Jack worked for an Investment Bank. Jack joined the Diocese of Chichester as a part-time Parish Development Officer and Bishop's Adviser for Vocations. He has previously served as House for Duty priest in Leytonstone and as a full-time incumbent in Wanstead, East London. Previously, he was the first Chaplain and Welfare Officer at Lincoln College, Oxford after serving as Curate in Chelsea, west London.