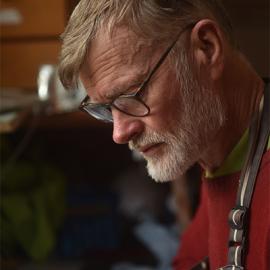 Aidan Hart is a member of the Orthodox Church, and has been a professional iconographer for over thirty years.
He has commissioned works in over twenty-five countries of the world. He works in a variety of mediums, including egg tempera, fresco, mosaic, and stone and wood carving, as well as being design consultant for church refurbishments.
Aidan has had two books published, Techniques of Icon and Wall Painting and Beauty Spirit Matter, with a new volume Festal Icons: History and Meaning due to appear in 2022. An ordained Reader of the Orthodox Church, Aidan lectures widely and has had numerous articles published. As well as apprenticing select students, he is director and tutor for the icon painting programme of The Prince's Foundation School of Traditional Arts. He is a fellow of the Temenos Academy and Honorary Patron of the British Association of Iconographers. 
As someone passionate about sharing the joy of God's life through the beauty and power of liturgical art, he has featured in numerous television and radio programmes, most recently the five-part BBC Radio 4 series The Creation of an Icon.