Chichester Cathedral's American Patrons celebrates the many American connections within the diocese.
---
Chichester Cathedral American Patrons was launched to celebrate the many connections that exist between Sussex and North America. Following recent in-depth research into the Cathedral's extensive Anglo-American heritage, we are keen to share all that we have learnt about our transatlantic links.
The father of the American Revolution, Thomas Paine, came from Lewes, East Sussex. Thomas Paine was introduced to Benjamin Franklin by the third Duke of Richmond, whose Goodwood Estate lies just outside Chichester. The Duke gained the title of the 'Radical Duke' because of his support for the American Revolution.
Part of the mystery of the 'Sussex Declaration' – the only ceremonial parchment manuscript copy of the American Declaration of Independence other than the signed copy held at the National Archives in Washington, D.C. – lies with the Duke, Thomas Paine and Benjamin Franklin. Harvard University is hard at work with the West Sussex Archives, where the Sussex Declaration is in safe-keeping, to establish the history behind this unique piece of shared American and English history.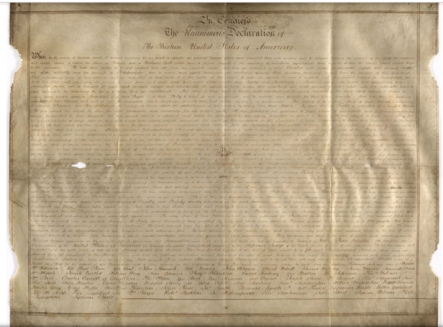 West Sussex Record Office (Add Mss 8981) © West Sussex County Council
Delve Deeper to discover the shared heritage between the US and Sussex.
---
Become an American Patron
Our Patrons' scheme provides the opportunity to discover the shared heritage of Sussex and America whilst making a tax-efficient contribution to the heritage and worship at Chichester Cathedral - we are registered with CAF America to allow for international giving.
Complete the following forms to become an American Patron: