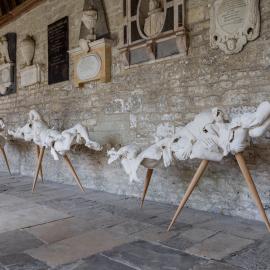 Fuse
Plaster, steel, wood
Fuse, is composed of sections of body casts taken from the members of the RSS Southwest zoom group, exhibiting in Together We Rise. The sculpture acts as a counterpoint to the extreme physical isolation we felt during lockdown and takes our relationships with each other from the digital sphere into to the physical. It is also a celebration of the beauty and reality of human bodies. Despite the casts being individual imprints, they have become abstracted to reveal the underlying similarity of being made of flesh. These biomorphic forms attempting to capture inner experience as opposed to outer appearance and celebrate our communality as human beings. Listen to the audio below to hear more from Anna:
Anna Gillespie is a contemporary British figurative sculptor. Over the last 10 years her work has focused on capturing the feeling of immersion in nature. More recently it has shifted exploring where the urban human experience meets the natural environment.