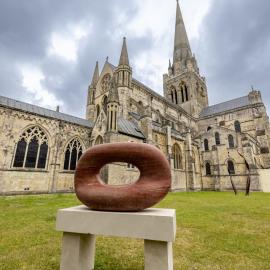 erythOcyte
Red travertine, limestone
Inspired by the relationship that the Cathedral has had with contemporary art, these sculptures are a homage to the reclining pieces of Henry Moore and other Modernists. They will also refer to the famous Medieval sculptures in the Cathedral, the Arundel Tomb, that of Richard Fitzalan Earl of Arundel and his second wife Eleanor of Lancaster. My sculptures will be abstract but with subtle allusions to the figure, with aerodynamic lines drawn from Science Fiction and Art Deco.  Listen to the audio below to hear more from David:
David is a sculptor working mainly in stone, he has carried out many private and public commissions in the UK and USA and specialises in interactive kinetic sculptures that the public can sit on.