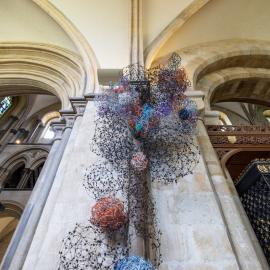 The Power of Fragile


Wire and recycled materials
Based on a lengthy study of processes within the natural world, Deborah uses basic materials (often recycled) to encapsulate life's eternal energy. During the pandemic, making became even more essential: a source of solace & containment. Here, the pillars of the Cathedral provide a powerful support, allowing the work to show its fragility and transience - a buttress of hope, faith, and resilience.
The aim is to create pieces which appear to be growing in the space, expanding, reaching out - a three-dimensional drawing - a celebration of life, connectivity & mutual support they created as a group.  Listen to the audio below to hear more from Deborah:
Working with wire and found materials, Deborah Duffin creates organic, 3D drawings exhibited as individual pieces or installations exploring space, human interaction, and the elements. She undertakes commissions, often in awkward and interesting spaces in private homes and public spaces.