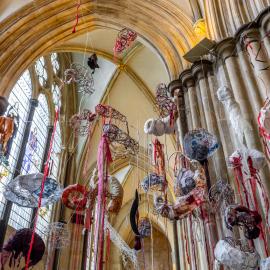 Martyrdom of the Ten Thousand
Recycled textiles, objects, wire, beads, shells, wood, paper, wax
Martyrdom of the Ten Thousand concentrates on the illegal trafficking and slaughter of thousands of pangolins. Covid - a zoonotic disease - originated from wildlife wet markets - unethical human practices leading to our own demise as well as increasing animal extinctions at an alarming rate. Multiple forms suspend, rising and pouring. Some appear skeletal, poised between completion and incompletion, in varying stages of translucency and decay. Stifled, vulnerable, the ghostly forms suggest pain, loss, death, but also resurrection. Listen to the audio below to hear more from Fiona:
Fiona uses recycled materials that are hand-sewn, wrapped, tie-dyed with home-made plant inks, and waxed over woven structures. Stitch by stitch, the labour-intensive process adds to the message of care and repair. While raising awareness of pangolins, my work is a way to channel and overcome loss, make do and mend.