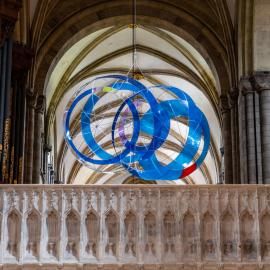 What We Have in Common
Steel, polycarbonate
In What We Have in Common, Jane explores individual and shared spaces created by two intersecting spheres. This idea relates to Venn diagrams, symmetry, asymmetry, the revisions the Cathedral has had over the centuries altering its central point and the real connections and virtual shared space in the RSS group Zoom meetings. Listen to the audio below to hear more from Jane:
Jane draws with wire and then colours in areas and has an interest in insides, outsides, and the surfaces, boundaries and spaces between them.