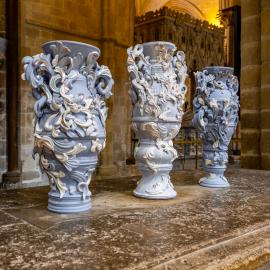 Three i, Three ii & Three iii
Ceramic
This group of three vessels represent risk and acceptance. Jo's work is inspired by ornament in architecture and attempts to condense a sense of historical grandeur into a contemporary object. The resulting pieces are a trio, a trinity, a family, a group and can be read in several ways in a Cathedral setting. Whether one sees wise men or Marys, the message of strength in unity is universal. Listen to the audio below to hear more from Jo:
Jo works with ceramic sculpture influenced by the dialogue between space, structure & ornament. She is a freelance artist educator, a flexible role allowing availability for exhibitions, projects and residencies.