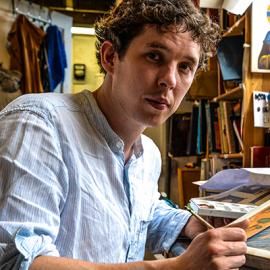 Martin Earle is a Catholic artist specializing in works for churches and the sacred liturgy.
As well as painting in egg tempera and gilt, he carves in wood and stone, makes mosaics, and creates designs for other makers to execute. Working firmly within the tradition of Christian iconography, his aim is to profess that 'The Word became flesh and dwelt among us, and we have seen his glory'.
Born in 1984, Martin graduated from the Royal College of Art in 2009 and then spent two years in Israel as an assistant to children and adults with disabilities and in France as a member of the L'Arche community. In 2012 he started an apprenticeship with Aidan Hart and in 2017 he began to receive a wide range of commissions from parishes in Britain and the United States.
Martin has experience of a broad range of projects from small icons to large-scale mosaics and design schemes for entire churches. In 2013 he received a grant from the Queen Elizabeth Scholarship Trust and in 2016 he graduated from the Icon Painting Diploma at The Prince's Foundation School of Traditional Art.
---
Commissioning A Work
Martin Earle and James Blackstone undertake commissions in iconography and liturgical art across a broad range of traditional media including icon painting, mosaic, mural painting and carving in wood and stone. Their works can be found in Catholic, Anglican, and Orthodox churches across the world. Please contact them with any enquiries or requests at:
E: chichester.artofworship@gmail.com
T: 07970 343110
T: 07449 722184