Since we began hosting our autumn exhibition, Peter Walker Sculptor's Peace Doves, we've welcomed over 13,000 visitors to the Cathedral to experience this awe-inspiring art installation.
While the space is temporarily closed to the public until Saturday 21st October to accommodate the University of Chichester's Graduation Ceremonies, we are thrilled to share an exclusive interview with the artist himself. In this conversation, Peter Walker unveils the inspiration behind Peace Doves and his unwavering dedication to making art accessible to all.
---
Q: We are honoured to be housing Peace Doves at Chichester Cathedral, could you tell us a bit about the inspiration behind the installation?
Peter Walker: Absolutely. Peace Doves came to life in 2018 when I had the privilege of being the artist-in-residence at Lichfield Cathedral. It was a significant year as it marked the centenary of the end of World War One. We wanted to create an artistic expression that allowed people to share their memories of the past and reflect on what peace meant to them at that moment. In Lichfield, this project brought together a staggering 22,000 people. Since then, it has travelled to various cathedrals, including Liverpool, Derby, Rochester, and Sheffield.
The beauty of Peace Doves lies in its adaptability. Everywhere it goes, it evolves. For instance, in Derby, after the challenges posed by COVID-19, people wrote about finding peace within their families. The messages vary, but the core intention remains: to make art accessible to all. Here in Chichester, the exhibition concludes on Remembrance Sunday, a poignant moment that brings the exhibition full circle to its original source of inspiration.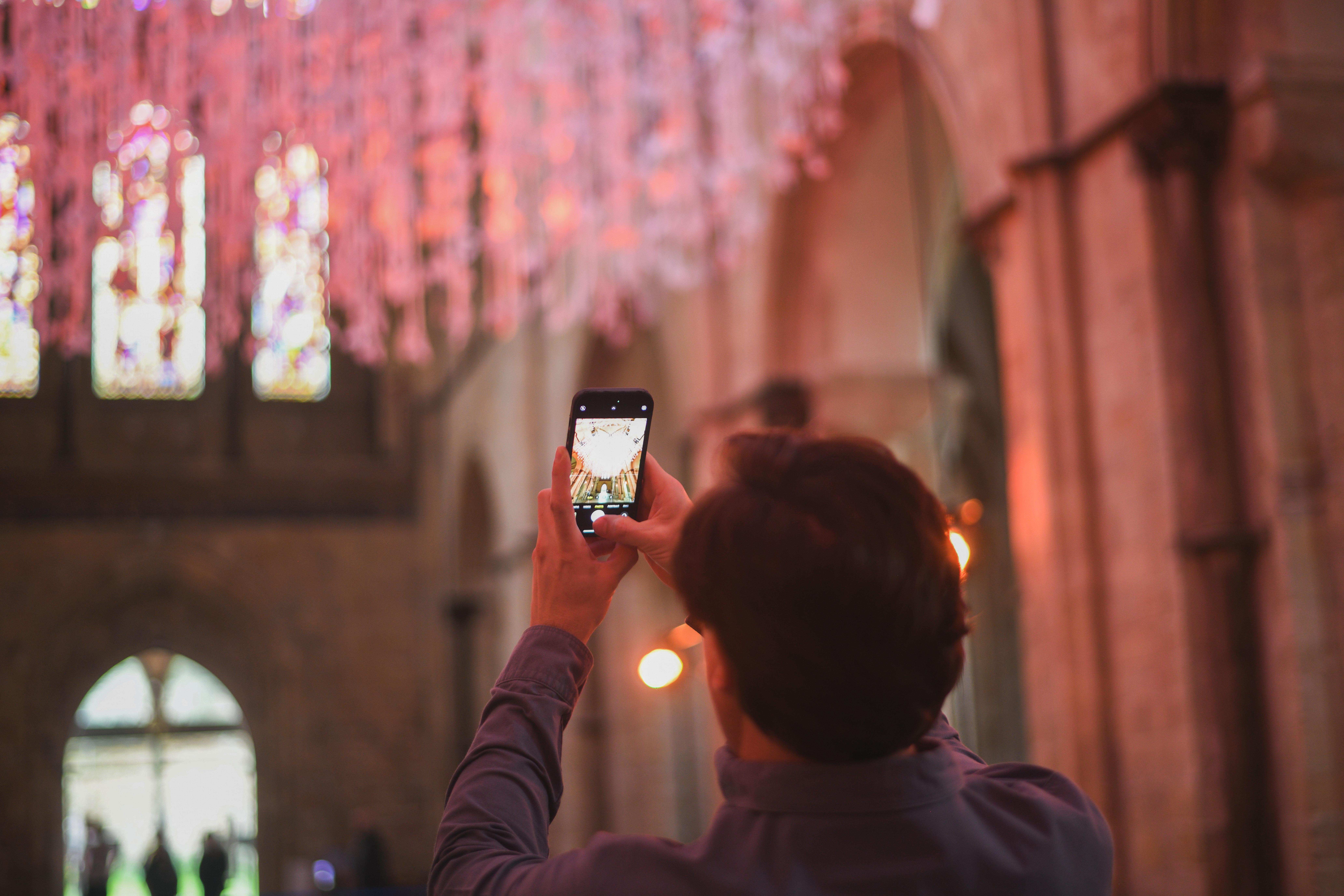 ---
Q: You mention bringing people together through your work, how important is the link to the local community within Peace Doves?
Peter Walker:The connection to the local community is paramount. In order to remove any perceived barriers, we intentionally avoid labelling our work as "art", and when we collaborate with cathedrals, we avoid placing emphasis on the religious aspect. Instead, we aim to help people understand and navigate these spaces, making them feel welcome. Sometimes, the local community has lost touch with these buildings, and our artworks offer a way for them to reconnect.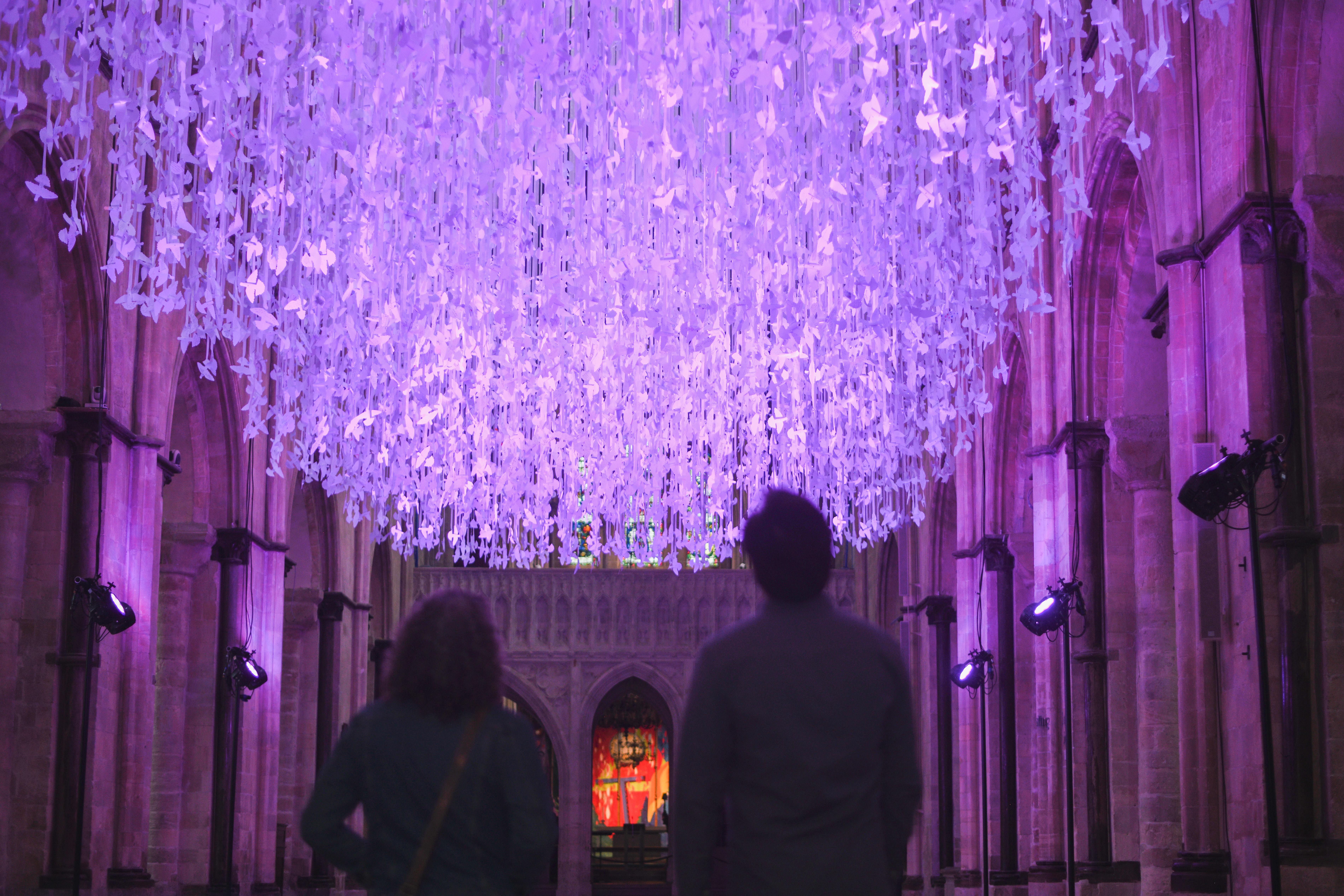 ---
Q: Peace Doves has exclusively shown in cathedrals, does the installation have a link to religion?
Peter Walker: We approach this project without explicitly delving into the realms of faith or religion. Instead, we aim to let the installation speak for itself and offer visitors a chance to engage with the space in a contemporary way and take from it what they will. It's about creating an open environment where people can interpret and connect with the installation on their own terms.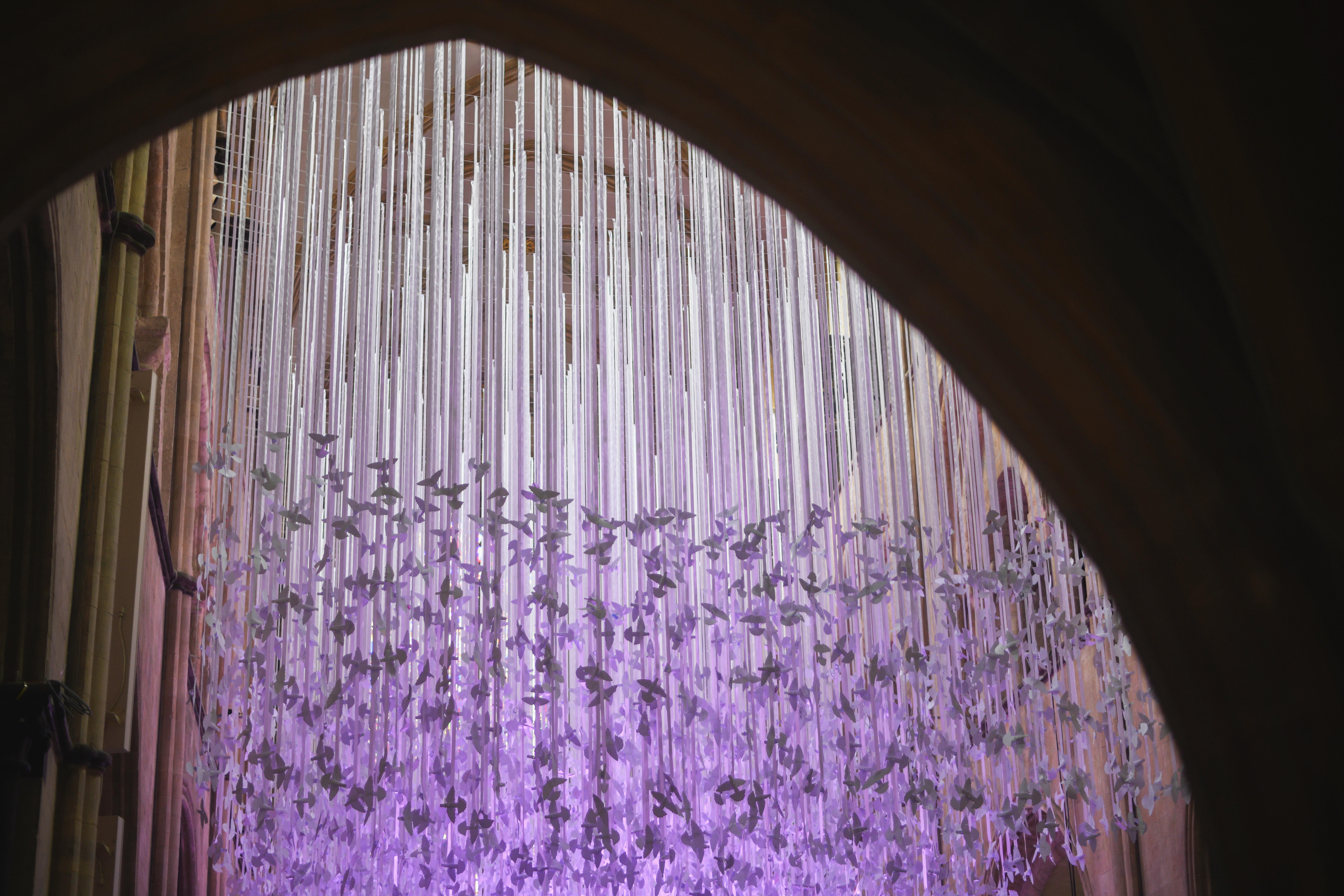 ---
Q: The project features an incredible 15,000 paper doves, can you tell us a little about the installation process?
Peter Walker: The installation involves considerable planning, but the final arrangement takes shape when we enter the cathedral. We adapt the design to suit the unique features of each space. Thankfully, some cathedrals naturally complement the installation, like here in Chichester.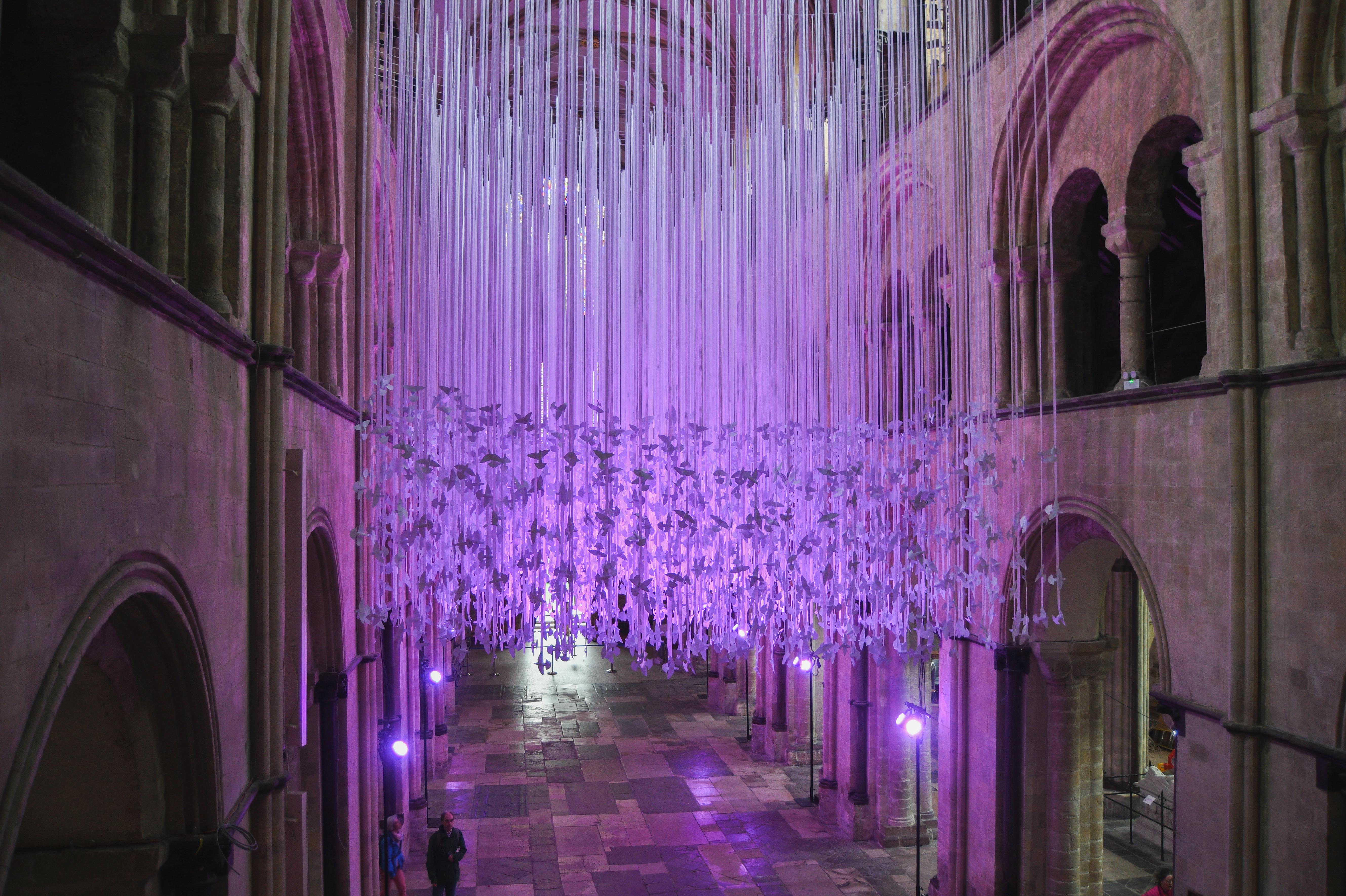 ---
Q: Do you consider each version of the installation to be unique?
Peter Walker: Yes, indeed. While the core concept of Peace Doves remains consistent, the messages and how it integrates into each cathedral's unique architecture differ. The setting influences how it looks, which is what makes each installation special. Here at Chichester Cathedral, for example, the height of the space creates a breathtaking visual effect, almost like an ethereal atmosphere. The individual messages may vary, but the overarching theme of peace resonates consistently.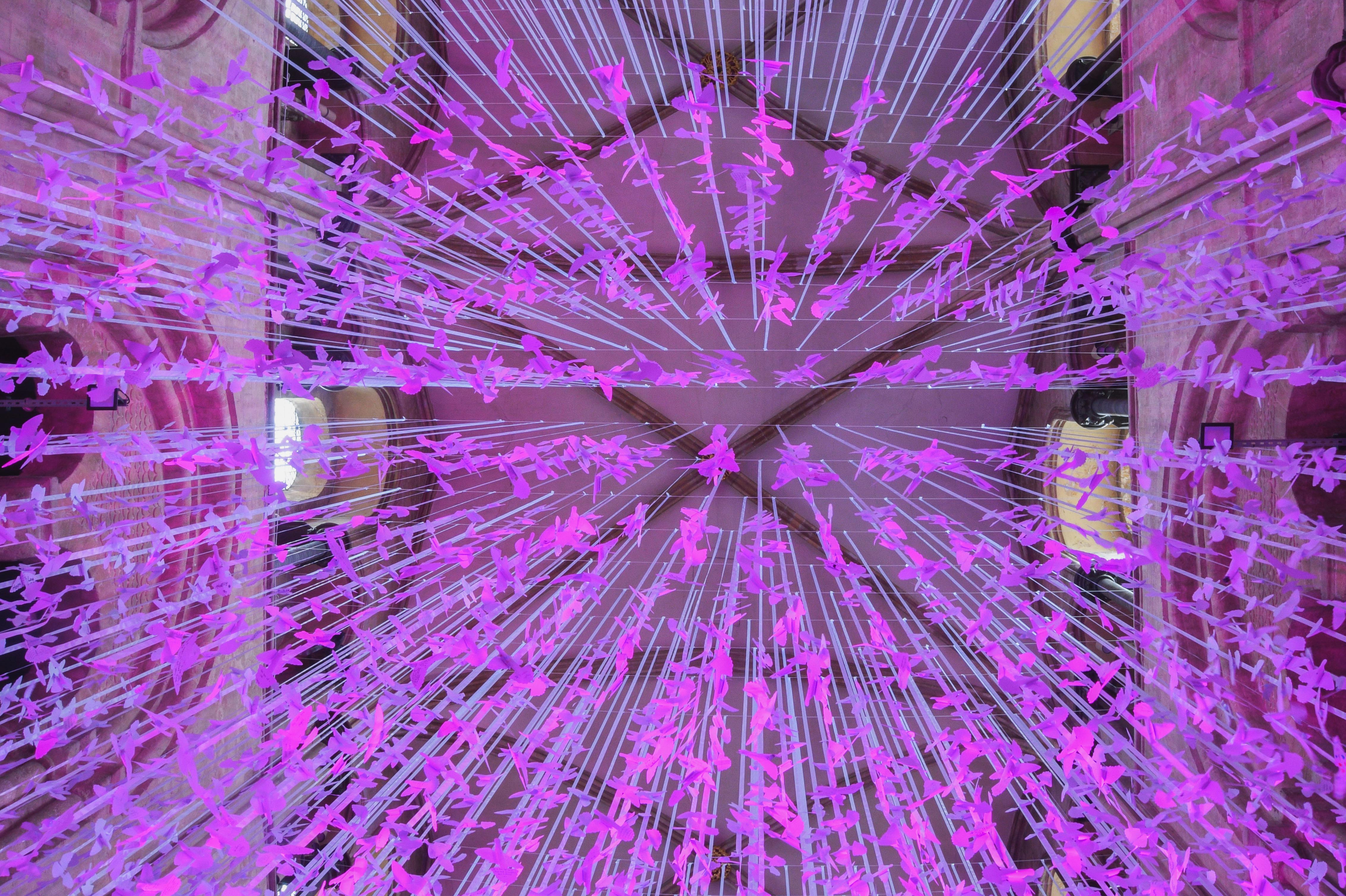 ---
Q: You've touched on the significance of community within your work, what aspects of outreach and education are involved in the Peace Doves project?
Peter Walker: Over the past few months, thousands have visited Chichester Cathedral to write on the doves. Additionally, we sent around 6,000 dove templates to local schools, along with special educational resource packs including information about historical peacemakers, the dove's connection to the church, and other relevant topics. These schools asked children to write their own messages of peace on the doves, and in some cases, created their own in-house installations in response to the project.  
This approach ensures that Peace Doves is not confined to those who can physically visit the cathedral, and instead includes as many people as possible, helping to foster a sense of participation and ownership. It's this community-driven aspect and engagement that I believe to be a crucial feature of Peace Doves, playing a significant role in enriching the overall experience. It's about creating a sense of belonging and participation for everyone involved, from schools to care homes.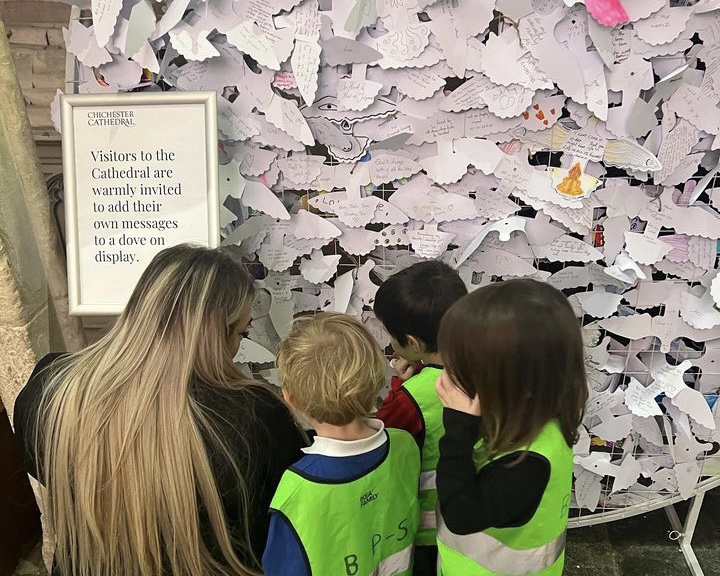 ---
Q: How did you come up with the design for the doves?
Peter Walker: The design process involved a few iterations. We aimed for a simple design that anyone, regardless of age or ability, could create. This inclusivity was crucial to us. The dove shape we settled on is something almost anyone can fold, ensuring accessibility to a wide range of participants. Remarkably, these doves, when hung, bear a resemblance to the doves seen in Renaissance paintings or even the dove depicted above the Cathedral's font, as the dove is a common symbol in various faiths.
---
Q: What would you like visitors to take away from this installation?
Peter Walker: I don't wish to prescribe specific emotional responses. This project is a collaborative effort, and I believe that what people take away from it is a deeply personal journey. Some may find it challenging, while others may see it as an open door. It's a reflection of the diversity of the human experience, and that's what makes it so rich and meaningful.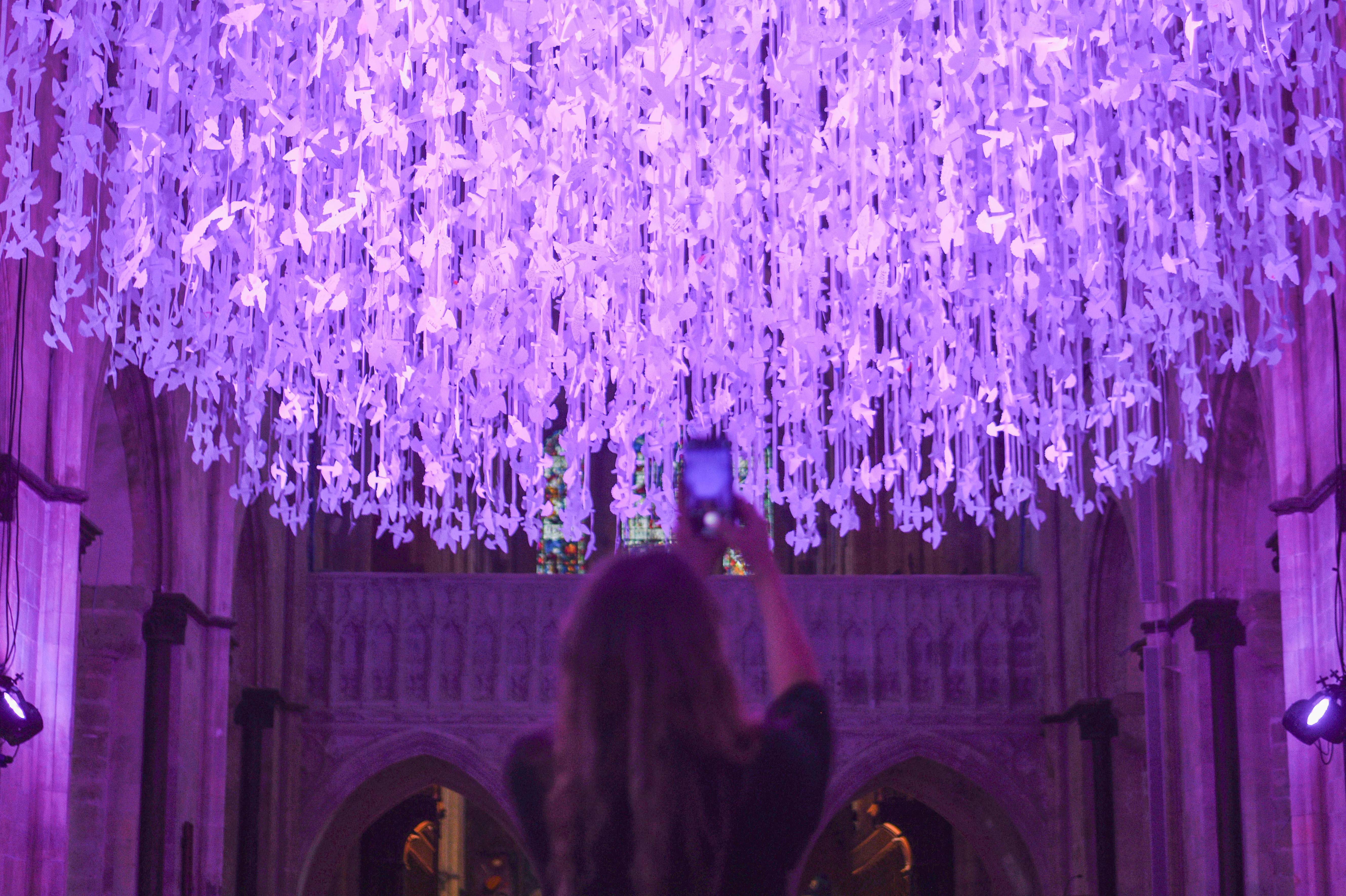 ---
We extend our thanks to Peter Walker for sharing insight into this extraordinary project. He has not only created a breath-taking installation but also an amazing opportunity for sacred spaces such as our ancient Cathedral to welcome and share the voices of our community.
Peace Doves reopens at Chichester Cathedral on Saturday 21st October until Sunday 12th November. During this time, you can immerse yourself in the wonder of Peace Doves at Night, a unique way to encounter this remarkable installation during the evening. Additionally, October half-term promises a calendar filled with free, Peace Doves-inspired family activities, making it an ideal opportunity for people of all ages to engage with art and explore the themes of peace and unity.