Encouraging a strong connection with our broader community holds immense importance to us here at Chichester Cathedral. In an ever-changing world, it's imperative for us to extend our welcoming embrace, ensuring that everyone within our local community knows our Cathedral is a place open to all.
In our dedicated pursuit of this vision, our current installation, Peace Doves by Peter Walker Sculptor, stands as an exquisite example. The emphasis placed by Peter on making his artwork accessible to all and as a means for communities to 'reconnect' with significant spaces like the Cathedral was the driving force behind our decision to collaborate with him and his team. Equally important was the community-driven outreach and engagement of Peace Doves.
It's about creating a sense of belonging and participation for everyone involved, from schools to care homes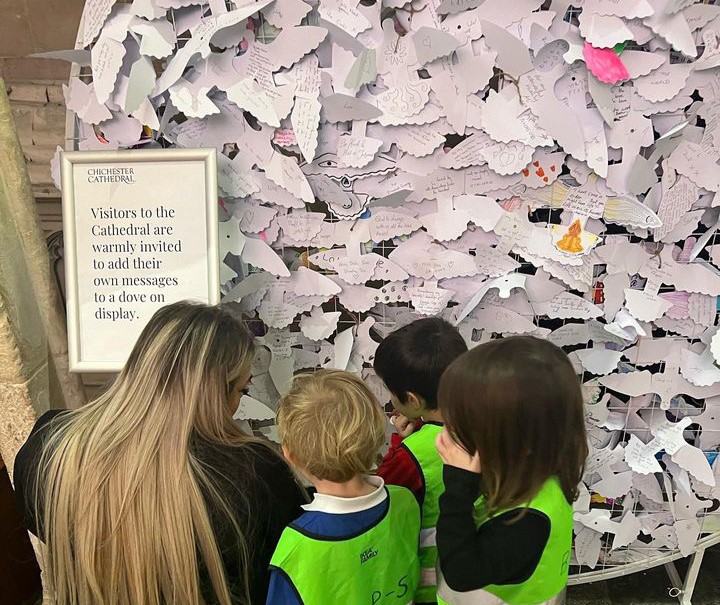 Peace Doves is the culmination of a community outreach programme we embarked on over six months ago. It showcases a stunning collection of 15,000 paper doves, each bearing messages of peace, love, and hope contributed by people from the local diocese and beyond. This approach ensures that Peace Doves embraces inclusivity, extending its reach far beyond the confines of the Cathedral's physical presence. It welcomes a diverse range of individuals, fostering a profound sense of engagement and shared ownership. These community-driven elements lie at the heart of Peace Doves, enhancing the overall experience significantly. 
While we meticulously hand-folded each paper Dove returned to us from these groups, we were deeply moved by the numerous poignant and touching messages and illustrations etched on each one. It was important for us to discover from these organisations how their involvement in Peace Doves impacted their communities. Here, we are delighted to share some of the feedback we received.
---
Arundel Church of England Primary School
Over 100 schools received a special educational resource pack, including information about historical peacemakers, the dove's connection to the church, and other relevant topics. These schools invited children to write their own messages of peace on the Doves and, in some instances, created their own in-house installations in response to the project.
One of the schools that participated in the outreach programme was Arundel Church of England Primary School. They invited the entire school, from four and five-year-olds in the school's Reception Rainbow Class to ten and eleven-year-old pupils in the school's Year 6 Ichthus Class, to write and draw messages of peace. Like us, they recognised the alignment between their school values and the Peace Doves installation and incorporated it into the children's discussions as part of their learning.
A spokesperson from the school commented: "Our school vision statement encourages our students to 'grow closer to God in faith,' 'flourish through the gospel of hope,' and 'reach out to our neighbours in love.' By taking the time to contemplate what a dove represents and how we could be part of something focused on peace, children of all ages were able to take an active part, recognising that the ethos and core values of our school support the wider community around them."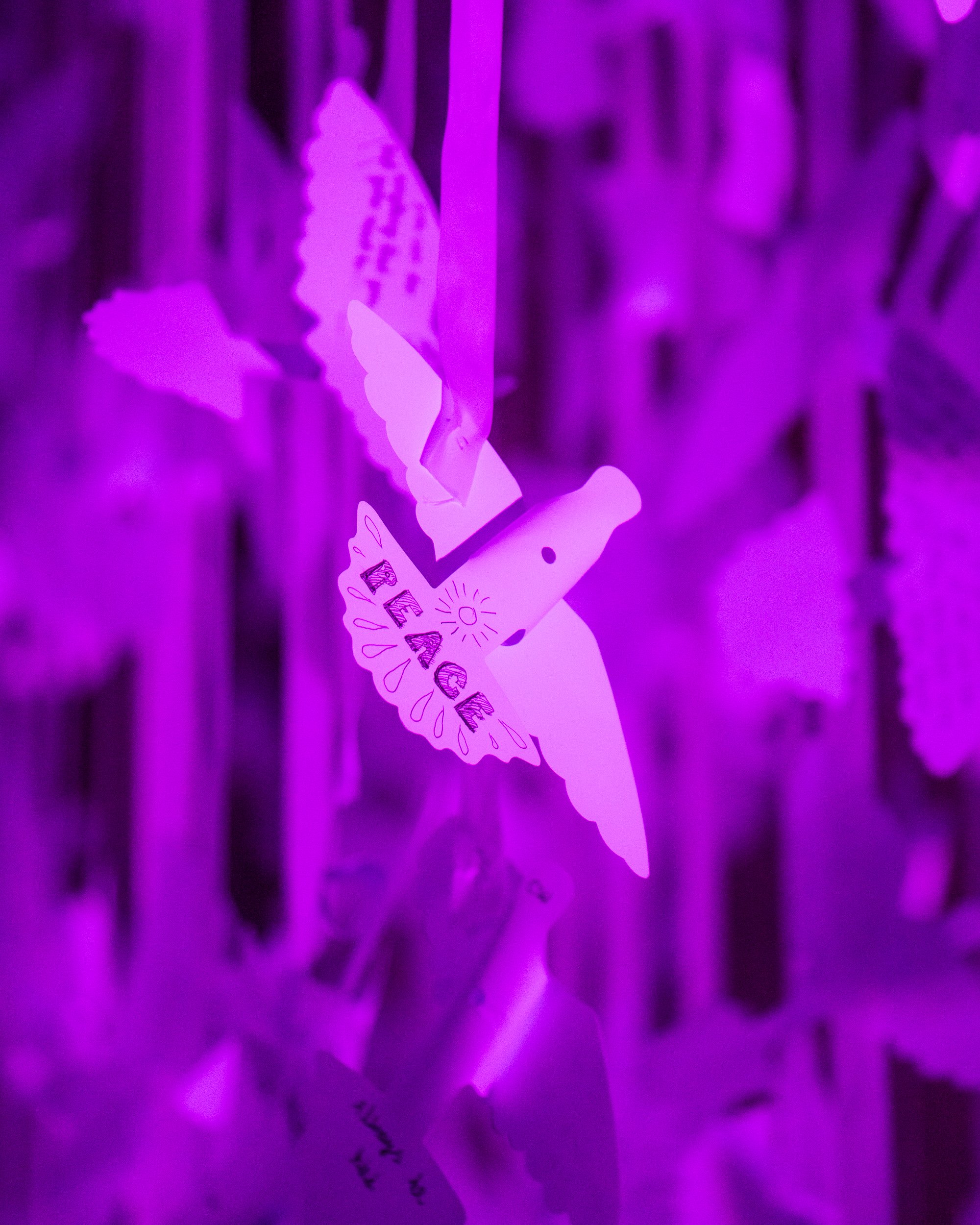 Credit: Jakub Bors Photography
---
The Aldingbourne Trust
The Aldingbourne Trust Creative Arts Studio is a nurturing haven where artists with learning disabilities and autism can freely express themselves and acquire new creative skills. These artists regularly showcase their work at local exhibitions and actively participate in community events, such as our Festival of Flowers, which takes place next year from Wednesday 5th to Saturday 8th June. Eager to share their passion for art and creativity with the local community, we were delighted to collaborate with these talented artists as part of Peace Doves.
Helen Wilkinson, Lead CAS Instructor, said: "Our artists were excited to work on the project and keen to visit the installation after being shown pictures of the artwork. They were enthusiastic and showed their individuality within the specified parameters of the work, drawing patterns and writing messages of peace and goodwill on their individual Doves."
---
Ukrainian Community Group
Through our local efforts and partnership with the charity Sanctuary in Chichester, reaching out to Chichester's newly emerging communities was of paramount importance in our outreach programme.
It was through Sanctuary in Chichester that Yuliana Korochentseva, a mother of two originally from Donbas, Ukraine, and a twice-displaced person, fervently encouraged her fellow Ukrainians to participate in this extraordinary project, reminding them that even in the darkest of times, a collective spirit of hope can light the way. They wrote messages of hope and longing onto the Doves as well as symbols of freedom, love, and solidarity.
"The Ukrainian community of Chichester, amidst the turmoil and heartache of the war in Ukraine, found solace in this poignant act of unity. The embrace of local communities in Chichester was more than a gesture; it was a lifeline of unwavering support. In the midst of uncertainty and suffering in their homeland, these doves symbolized the soaring spirits of the Ukrainian community, who found solace and strength in knowing that their struggles were not borne alone." - Yuliana Korochentseva of the Ukrainian Community Group.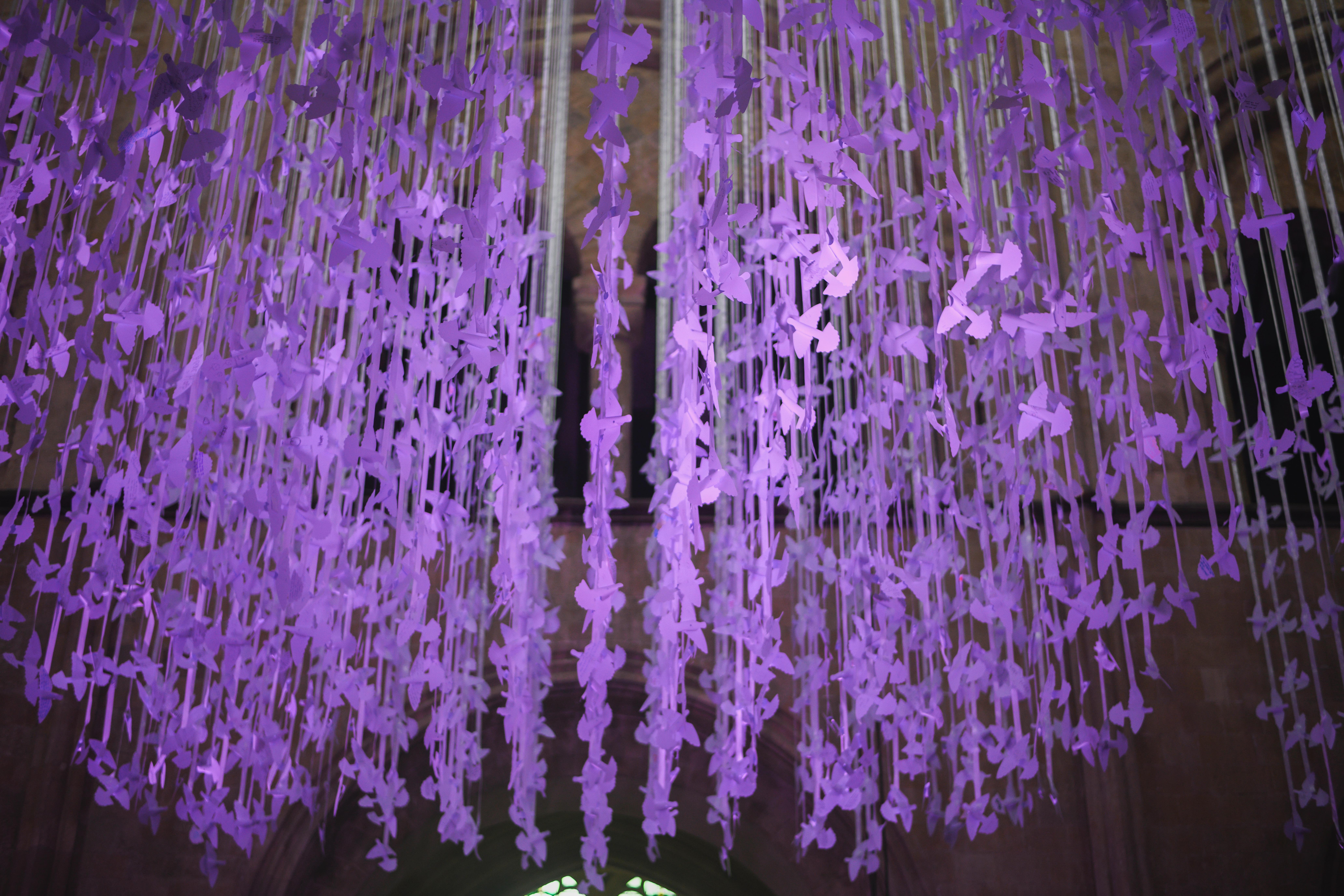 ---
Westergate House
Peace Doves will conclude on Remembrance Sunday, making it even more poignant and important to include the voices of our community's older generation in the exhibition. Their participation has been invaluable, and they wholeheartedly embraced the mission of supporting the Cathedral in reaching our ambitious 15,000 Dove target.
Lee Austin, Head of Lifestyles at Westergate House shared their residents' experiences, reflecting on the communal spirit that enveloped this project: "Our residents here at Westergate House love getting involved in community activities. When the news was given about Peace Doves being at Chichester Cathedral, there was much excitement about doing what we could to help reach the Dove target for the art installation. As a home, we collected and completed 100 individual doves. This included our residents, staff, and even some family members who were excited to take part. Individuals' thoughts, words of reflection, and even some prayers were written across the wings. Our residents made each one very personal, a true reflection of their own thoughts and wishes. It was a really lovely 'whole home' experience and activity, and we look forward to taking our minibus to see the finished product for ourselves."
---
Hearing how Peace Doves has touched the lives of such a variety of people in the Chichester area has been truly inspiring. We would like to thank the thousands of members of our local community who participated in this project. 
Peace Doves will be at Chichester Cathedral until Sunday 12th November. Find out more about this extraordinary installation here>>