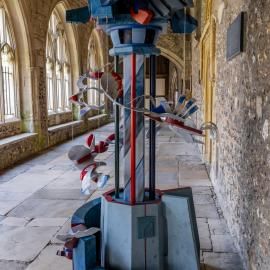 Turning Point
Wood, Aluminium, Stainless Steel, Perspex, Brass. Acrylics, Oils and Spray Paint
This work centres on a pillar or tower, surrounded by a wide helical movement of lighter, dynamic shapes that, though quite abstract, evoke the flight of birds, alluding to a sense of liberation or new beginning. As columns play a central physical and aesthetic role in the cathedral so this central structure is our touchstone, a metaphor for support and certainty in many forms. Listen to the audio below to hear more from Philip:
Philip Booth makes wall mounted and free standing constructions, box works, art medals and works on paper, mainly in mixed media.