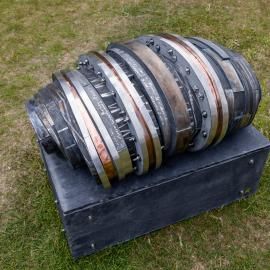 Form & Vessel
Stone, Jesmonite, stainless steel, pewter, copper
Two pieces working together, a Form and Vessel, made from a limited material palette of cast stone and metal (polished, etched, patinated). Ideas of containment and emergence are explored through material and exposed methods of fixing and joining; some constrain - as the pandemic - others hold, connect, repair. Two works experienced as a transition from one state to another, the vessel ultimately a symbol of being held, of emergence and light.
There are many examples of basic stone repair and fixings visible in Chichester Cathedral. Richard uses similar methods in the sculptures making a link not only to the fabric of the Cathedral, but also to the sense of holding something together. Listen to the audio below to hear more from Richard:
During the early days of the pandemic when we all entered the unknown territory of
lockdowns
and social distancing, Richard made a series of small metal works based on stones - split in various ways - and reconnected using nuts and bolts. The mechanical fixings not only brought the split pieces together, but they also gave a 'contained' sense to the works. Key to the works are the exposed methods of fixing and joining; some constraining – as in the pandemic – others connecting and repairing.