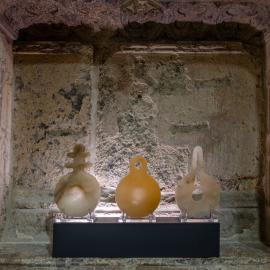 Totems for Sanctuary & Guardians for Sanctuary
Blue Purbeck marble, Portland base; Spanish Alabaster; solid bronze
Totems for Sanctuary was conceived out of reflections on mortality, the fragility of our lives, and as a way of offering prayer into the world for safe passage through the pandemic. Regular virtual meetings with colleagues helped to resource and support her resolve through those times of isolation and uncertainty.
As Rosie worked on the two Guardians for Sanctuary pieces, her admiration deepened for those unnamed medieval masons who cut and polished the hard Purbeck to create the columns and shafts found in Chichester Cathedral. Listen to the audio below to hear more from Rosie:
Rosie a stone-carver who carves abstract sculptures in limestone and marble and has also begun to work on small pieces in clay to be cast into bronze. Some of her work can be found in the public arena but most find their place in gardens and domestic spaces.