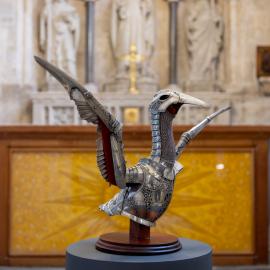 Harness
Pewter, steel, textile, wood
Harness is a metaphor for everything with which we burden ourselves as we struggle through life. It represents a place in which we feel safe and protected but which ultimately inhibits our freedom to grow. Restrictive measures imposed by the COVID-19 lockdown leave us feeling weighed down, like a bird in armour and unable to fly. Life can become a trade-off if you let it. Listen to the audio below to hear more from Seamus:
Seamus Moran is a Cornwall based sculptor working in a variety of media with a preference for mould-making and casting. Many of his works are based around casts taken from knots weathered out of dead trees. Recently he has been producing more figurative pieces which question our assumptions about the world and how everything fits into it.