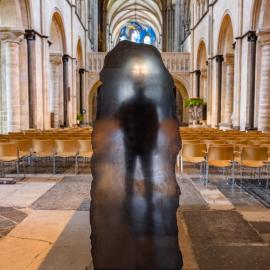 Bearing Witness to Things Unseen
 


(Concrete)

Entering Chichester Cathedral from the western door, one is confronted by an irregular shaped, polished black portal standing central to the nave on its flag-stone floor. Appearing as an absence of space and matter within the fabric of the cathedral, this phenomenon holds your reflection as you approach. Walking past the reflective portal reveals its dense black surface; parallel grooves and ridges running along its length as if having been extruded. Contrasting with the flat polished western end, the eastern end is a cave-like void, a craggy cast of a boulder which is now absent. This is the shadow of an ancient rock, cast by the rising sun on the equinox. Listen to the audio below to hear more from Simon:

Simon Hitchens' studio practice underpins everything, and informs his public commissions which have an acute awareness of the specifics of place. In both realms he is fascinated by the difference between the human and the non-human – what passes and what outlasts.