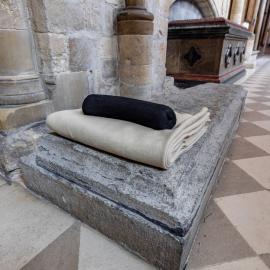 Of Wing and Lift & Headrest


Wool, felt, wood, charcoal
Of Wing and Lift and Headrest combine digital and analogue media to visualise energy and memory, unsettling the sensory hierarchy. Aiming to trigger synaesthetic response (experience between the senses), this work refers to everyday objects and gestures, comfort and discomfort, improvisation, and play; to experiences on the edges of language. Listen to the audio below to hear more from Tabatha:
Tabatha sees a cathedral as a container for sound, silence, memory, and communion. A working, living space for remembering others through speaking, singing, reading, and listening. A place for translation and transformation. The materials she uses respond to these qualities. She works across disciplines, collaborating with scientists, choreographers, composers and community groups.