Together We Rise is a major exhibition of artworks from celebrated members of the Royal Society of Sculptors, taking place from 27th June – 6th September 2022.
The exhibition comprises over 30 artworks presented within this 940-year old living place of worship, and across its grounds. The pieces respond to the artists' experience of the pandemic, their resilience, sense of community and collective hope for the future.
The exhibition is curated by Visual Arts Advisor Jacquiline Creswell and forms part of Culture Spark – Chichester's season of culture in 2022.
Entry to the Cathedral is free, donations are welcome. There is no need to book. Plan your visit >>
Read on below to find out more about the exhibiting artists, their work and creative practice. 
Meet the Curator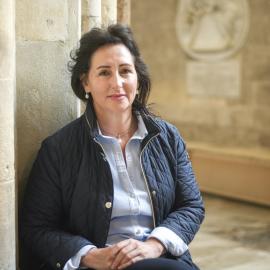 Jacquiline Creswell
Visual Arts Advisor Jacquiline has been curating exhibitions at Chichester Cathedral for 6 years and previously, Salisbury Cathedral for 12 years, and helped bring this exhibition to the Cathedral.
Read more
Cover Image: Rebecca Newnham, Quercus